We're happy to say that 2023 is off to a great start!
We had a record-breaking six projects achieve the Notice to Proceed (NTP) milestone, meaning they're ready to start construction, and we had 53 new megawatts (MW) of solar and battery storage projects enter our project backlog. We have continued to venture into new states, including Texas and Maryland, and we're excited to capitalize on this momentum by setting (and breaking) new records for ourselves this next quarter.
Here are some highlights from the past three months:
UGE's project backlog—our projects in mid- to late-stage development—increased by over 20% and now totals 313MW, up from 260MW at the end of 2022. This increase of 53MW, enough to power roughly 8,600 homes and offset 68,500 metric tons of CO2 each year, marks the greatest quarterly increase in UGE's history! You can see below for a better idea of where all of our projects from backlog through operation are located.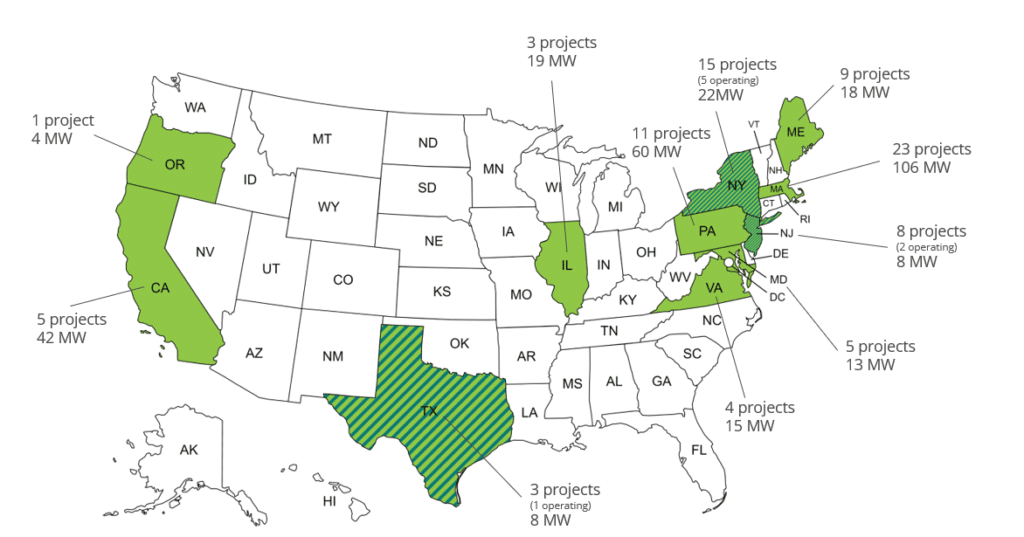 One of the projects that reached NTP this quarter, a 457kW rooftop project in Peekskill, New York, has already begun construction and is expected to begin operating at the end of the summer. Meanwhile, UGE's first brownfield solar redevelopment project, a 1MW ground-mount located on a former landfill in Norway, Maine, is on track to go live in mid-June. You can learn more about brownfield redevelopment here.
UGE has officially landed in Texas thanks to the combined acquisition of two ground-mount solar projects and a battery storage project located in Smithville, Texas. The first of the ground-mount projects began operating at the end of January (see above). It's been exciting to see how Texas has opened up to solar, and we look forward to connecting with more Texans this year! 
We published our inaugural Environmental, Social, and Governance (ESG) report, which can be found here. As we continue to grow, we will remain committed to transparency and strive for better, greener practices! 
Last but not least, want to get involved in our work? Here are a few ways:
Join our fast-growing team! We need help (and a lot of it) if we're going to quickly transition our world to renewable energy—check out our open positions here if you'd like to join the good fight.
Host a project! If you own a sizeable rooftop or piece of land and want to make some extra money, you should consider hosting a solar and/or battery storage project.