Company Achieves Record Project Development Progress with 10MW of new NTPs and 53MW of new Backlog
Toronto, Ontario–(Newsfile Corp. – April 11, 2023) – UGE International Ltd. (TSXV: UGE) (OTCQB: UGEIF) (the "Company" or "UGE"), a leader in commercial and community solar, announces milestones and business updates for the first quarter ending March 31, 2023.
Record Backlog and Development Pipeline Growth
In the first quarter, UGE's project backlog (stages 3.1-5) increased over 20% to 313MW from 260MW at the end of 2022. This backlog increase of 53MW marks the greatest quarterly increase in UGE's history. The Company's development pipeline (stage 3.0) also grew by more than 350% in Q1 to 476MW. The majority of this growth was in California, where the Company has been obtaining site control ahead of the launch of the state's updated community solar program. As of March 31, 2023, UGE has a pre-development pipeline (stages 1 and 2) in excess of 2.6 gigawatts.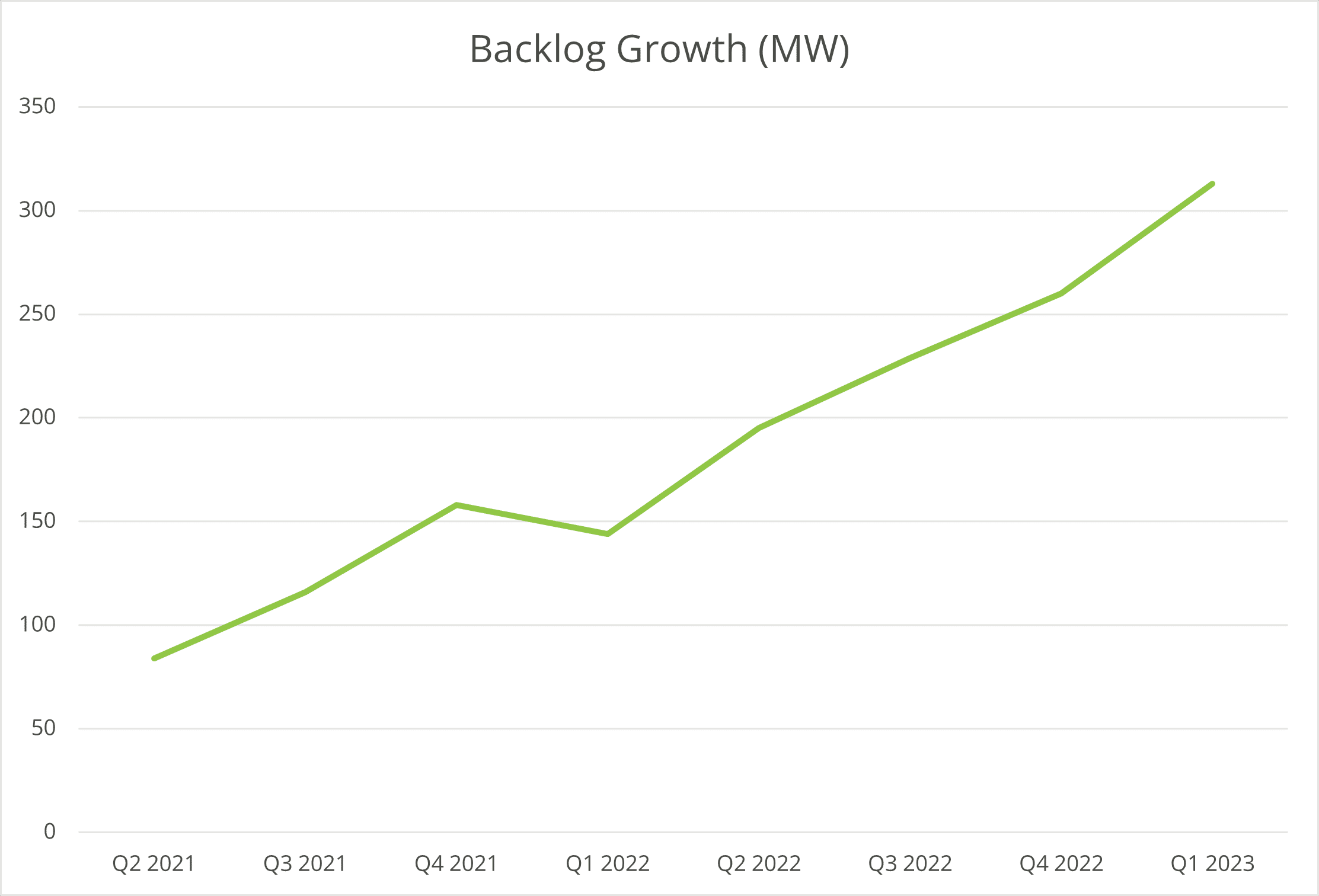 Six Projects Totaling 10MW Achieve Notice to Proceed, Prepare for Construction
During the quarter, six projects across three states totaling 10MW reached the Notice to Proceed ("NTP") milestone, a record achievement for the Company. The NTP milestone indicates that financing for the project has closed and all necessary permits and interconnection approvals for the project are in place. Among the projects that reached NTP in the first quarter was UGE's first project in Maryland, the largest rooftop community solar project in Maine, and UGE's largest community solar project to-date, which is located in Bangor, Maine.
Among other highlights, a 457kW rooftop project in Peekskill, New York that reached NTP during the quarter has already begun construction and is projected to reach commercial operation at the end of the summer. UGE's first brownfield solar redevelopment project, a 1MW ground-mount located on a former landfill in Norway, Maine which reached NTP in 2022, is nearing mechanical completion and expected to reach commercial operation this summer.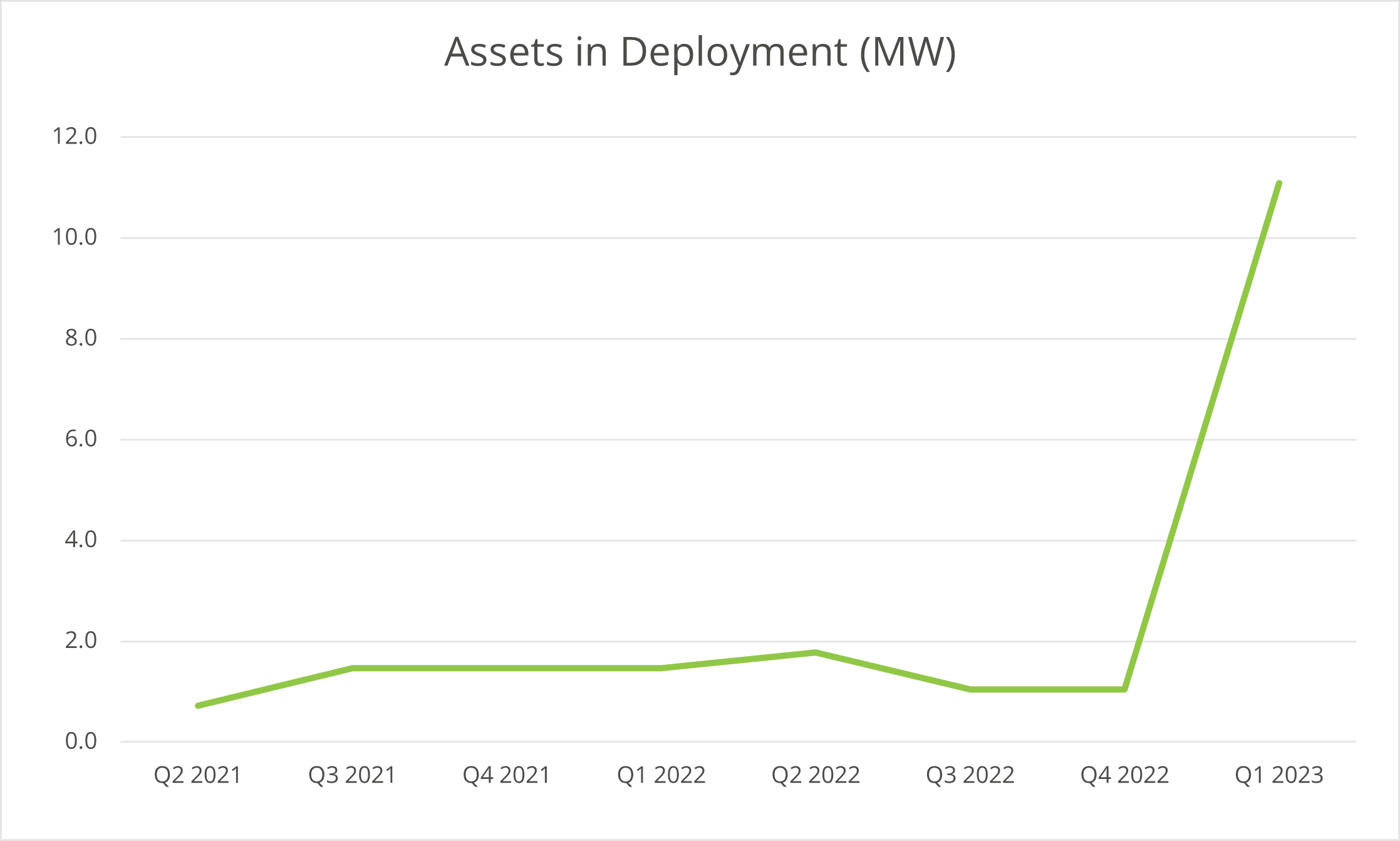 60% Increase in Operating Assets
UGE's operating portfolio grew by over 60% during the first quarter and now totals 3.8MW. This growth was the result of the Company's acquisition of a 1.4MW ground-mount project in Texas, UGE's first project in the state, which reached commercial operation at the end of January. The acquisition also includes a second ground-mount solar project totaling 1.3MW which is expected to reach NTP this summer and a battery storage project expected to reach NTP in 2024.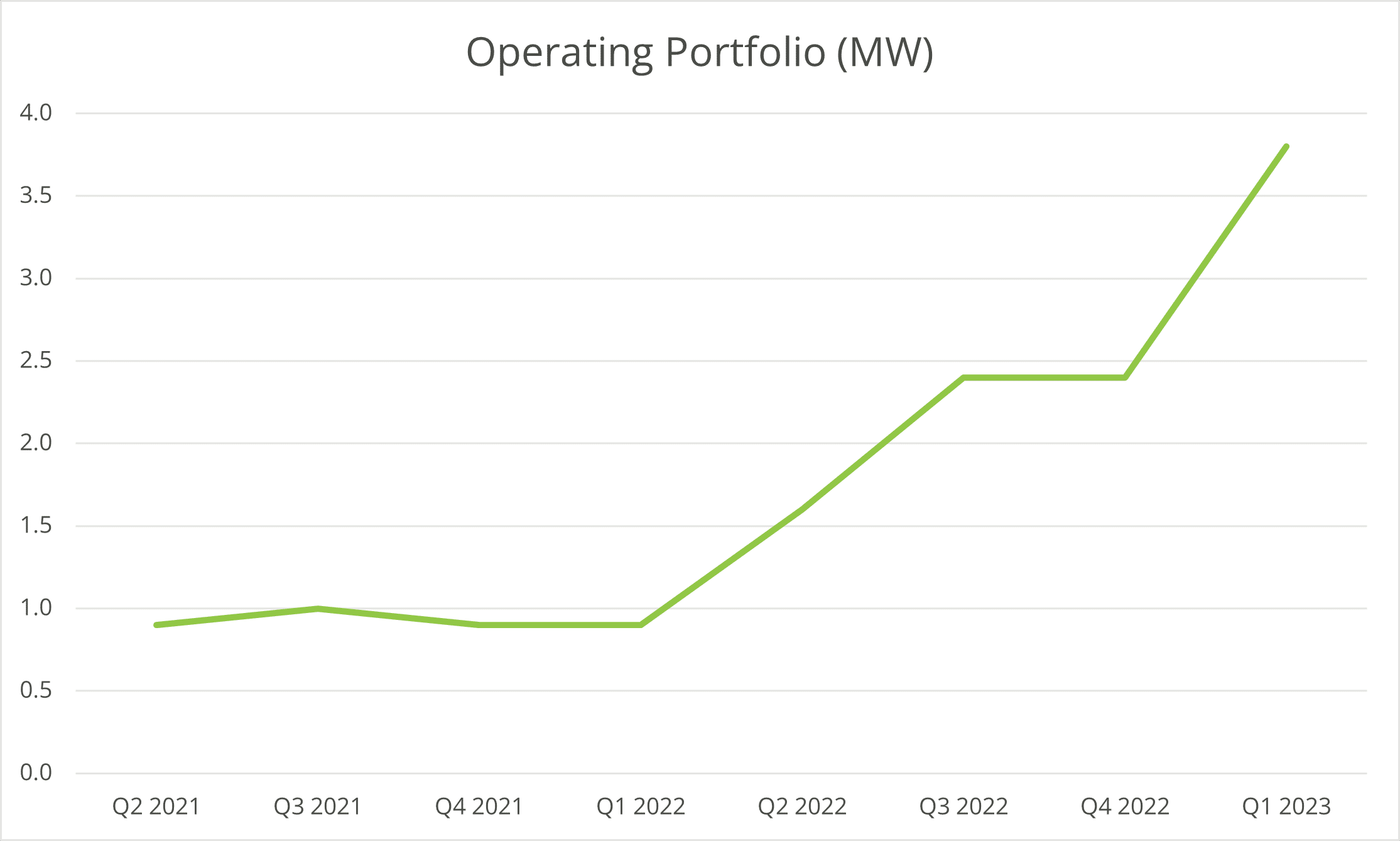 Project Financing Secured
On March 21, UGE closed a $12.5 million debt facility as well as a $7 million tax equity facility to fund the three Maine projects that reached NTP during the first quarter.
On March 31, the Company announced that it had completed a first tranche closing of a brokered private placement of solar development green bonds for aggregate gross proceeds of C$1,423,545. The Offering was comprised of a brokered private placement led by Canaccord Genuity Corp. on behalf of a syndicate of agents, including iA Private Wealth Inc. and Raymond James Ltd.
Inaugural ESG Report Released
On the last day of the quarter, UGE published its inaugural Environmental, Social, and Governance report covering calendar year 2022. The report was prepared using the Sustainability Accounting Standards Board (SASB) Solar Technology & Project Developers Sustainability Accounting Standard, and lays out UGE's policies, impact, and progress across key E, S, and G areas including, but not limited to, renewable energy deployment and responsible land use; workforce diversity and economic development; and corporate ethics and compliance. The report can be reviewed here.
Appointment of New Chief Operating Officer
UGE strengthened its leadership team in the quarter with the addition of Trevor Weed as the Company's Chief Operating Officer. Trevor was most recently Chief Operating Officer of Blue Raven Solar, where he spent more than six years helping the business grow before its successful acquisition by SunPower in 2021. UGE's prior COO, Robert van Duynhoven, remains with the Company as a strategic advisor on a part-time basis.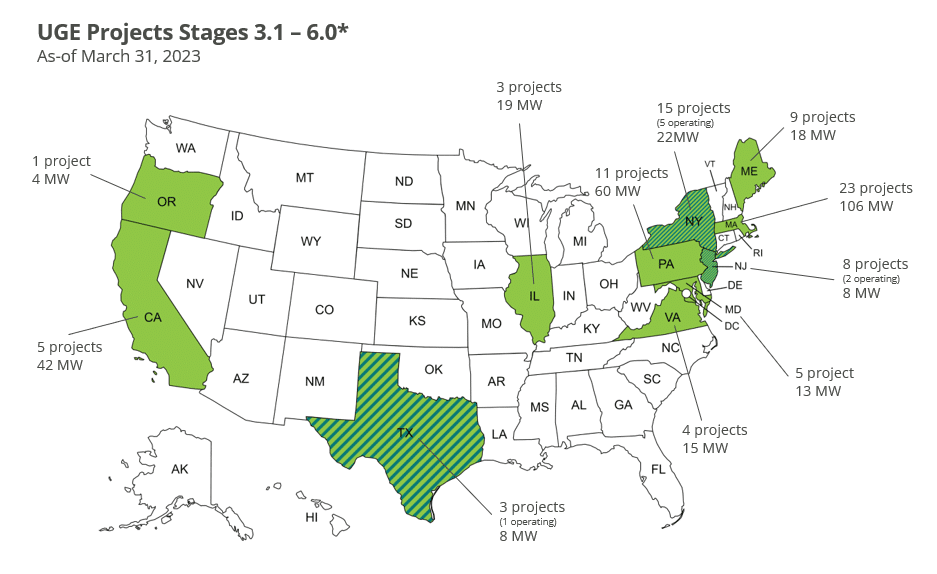 *Stage 3.1: Site secured, material feasibility determined
 Stage 6: Operational
About UGE 
UGE develops, owns, and operates commercial and community solar projects in the US and strategic markets abroad. Our distributed energy solutions deliver cheaper, cleaner energy to businesses and consumers with no upfront cost. With over 500MW of global experience, we work daily to power a more sustainable world. Visit us at www.ugei.com. For more information, contact UGE at: [email protected] or +1 917 720 5685.
Neither the Exchange nor its Regulation Services Provider (as that term is defined in the policies of the Exchange) accepts responsibility for the adequacy or accuracy of this news release.
Forward-Looking Statements 
Certain information set forth in this news release may contain forward-looking statements that involve substantial known and unknown risks and uncertainties, certain of which are beyond the control of the Company. Forward-looking statements are frequently characterized by words such as "plan", "continue", "expect", "project", "intend", "believe", "anticipate", "estimate", "may", "will", "potential", "proposed" and other similar words, or statements that certain events or conditions "may" or "will" occur. These statements are only predictions. Readers are cautioned that the assumptions used in the preparation of such information, although considered reasonable at the time of preparation, may prove to be imprecise and, as such, undue reliance should not be placed on forward-looking statements. Forward looking statements include, but are not limited to, the anticipated use of proceeds, and the listing of the Green Debentures on the TSX Venture Exchange. The Company assumes no obligation to update forward-looking statements, whether as a result of new information, future events or otherwise, except as required by applicable law.